Services
We offer services and treatment plans tailored to meet your unique hearing needs. From comprehensive evaluations to custom hearing aid fittings, our staff combines years of experience with state-of-the-art technology to find the best solution for you.
Hearing Tests
Hearing Testing and Evaluations
Choosing the right hearing aid starts with a clear understanding of your unique hearing loss needs. Our advanced testing procedures accurately identify whether or not you have hearing loss and measure the type and severity.
The first step toward solving your hearing problem is a hearing test. This easy, painless test uses tones and words sent through a set of earphones. Our doctors of audiology utilize a computerized audiometer to conduct all testing in a sound booth. Find more about Audiology and Hearing Solutions' tests on our Hearing Test page.
More on Hearing Tests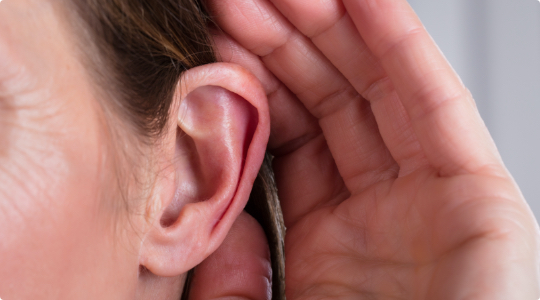 Online Hearing Test
Think You Might Have Hearing Loss?
Take our free, 5-minute online test to get a better understanding of your hearing health. It can determine if a professional screening is right for you.
Our Process
Finding the Perfect Match.
Hearing loss looks different for everyone, and as a result, there are a number of hearing aid varieties on the market. Through careful evaluations and custom fittings, we'll help you find the best device for your hearing loss needs.
Hearing Aid Services
We Service Your Devices
From hearing aid screening, selection and fittings, to ongoing maintenance and repairs – we offer a wide range of services to keep your hearing aids performing their best.
One of the most common questions asked is: "Do I need a hearing aid?" Not every patient will be referred for hearing aids, but many will be. Every hearing situation is unique, and we ask questions about the places and situations people encounter every day. Where is most time spent? Where is hearing the most difficult for you? The answers help determine the best hearing device for each person. We utilize research-based outcomes to ensure we have objective information, as well as subjective input to provide individualized and appropriate services.
More on Hearing Aid Evaluation
Some people hear high-frequency pitches better than low ones; for some, the reverse is true. Every person's hearing efficiency is unique, our doctors of audiology are qualified to advise you about the types of hearing aids that are appropriate for you and make specific recommendations based on your specific communication needs. Our audiologists all have to complete more than the minimum necessary continuing education units each year to keep on top of the constantly evolving hearing aid technology. Technology has improved to the point that each hearing aid is a miniature computer. It is tiny but powerful; some fit completely in the ear canal. This and other choices could be right for you and can help you improve your quality of life by keeping you connected to your world. Call Audiology and Hearing Solutions today to start the process toward comfortable, carefree and better hearing. We are your trusted hearing healthcare professionals.
More on Hearing Aid Fitting
Some minor hearing aid repairs can be done in the office setting in a short period of time; others will need to be sent to the manufacturer for repair. Your hearing professional can help determine what kind of a repair is necessary if you feel your hearing aid is not working properly.
More on Hearing Aid Repair